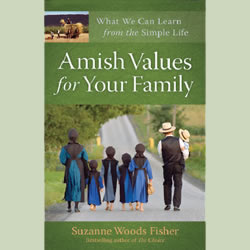 I have always highly admired and respected the Amish. Their discipline, family bonds and godly values have been a great influence on my life. So when I saw this book by Suzanne Woods Fisher; I had to review it on the blog.
When we think of Amish we think of horses, plain clothes, and no modern conveniences. I love using my car, lights and telephone; yet I can't help but long for that simpler way of life. With that simple life the Amish lead comes some values that every one can apply within their own families.
Amish Values for Your Family
is composed of 4 sections: Children are loved but not adored, Great expectations, Daily bread and Letting go. Each section includes short stories with an amish proverb, application, and words from the Amish themselves.
The Amish have proved over and over they know what their talking about when it comes to family values. If you long for a stronger family unit, want to pass on a legacy full of values to your children, or just want to learn to enjoy life; then this book should be on your reading list.
*This book was sent to me by
Christian Review of Books
in exchange for my honest review.